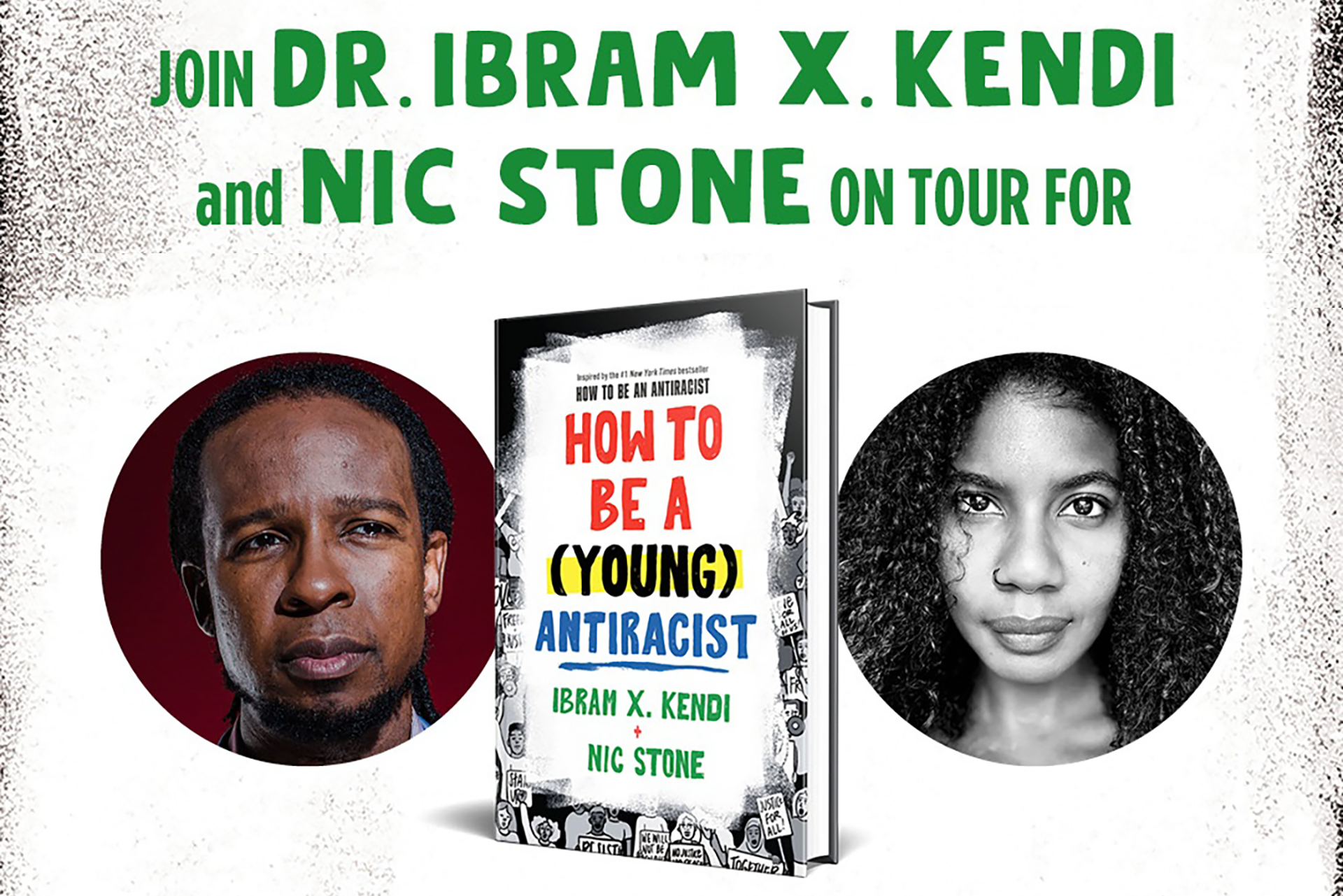 Book Release: How to be a (Young) Antiracist with Ibram X. Kendi and Nic Stone
Monday, January 30, 2023
Doors: 6:30pm, Show: 7:30pm
United Palace
4140 Broadway, New York, NY 10033
Monday, January 30, 2023
Doors: 6:30pm, Event: 7:30pm
Early bird discount (through 1/23/23):
$22 ticket with signed book
$10 ticket without book - ticket can be used as a credit towards purchasing a book at the event
After early bird period (through 12pm on 1/30/23)
$30 ticket with signed book
$15 ticket without book - ticket can be used as a credit towards purchasing a book at the event

Word Up Community Bookshop/Librería Comunitaria and the United Palace of Cultural Arts present bestselling authors Ibram X. Kendi and Nic Stone to celebrate the launch of their latest book for young adults. "How to Be a (Young) Antiracist" is a guide for teens seeking a way forward in acknowledging, identifying, and dismantling racism and injustice.
Aimed at readers 12 and up, the book is a dynamic reframing of the concepts shared in the #1 New York Times–bestselling adult version "How to Be an Antiracist" (out in paperback the same day), with young adulthood front and center.
The event will feature a conversation between Dr. Kendi and Nic Stone. An audience Q&A will follow. Simultaneous Spanish interpretation will be available.
Preorder the featured books at WordUpBooks.com or as part of your ticket purchase.
Group Sales
For group sales (schools and youth programs), contact Word Up at .
About the Authors
Ibram X. Kendi is the Andrew W. Mellon Professor in the Humanities at Boston University and the founding director of the BU Center for Antiracist Research. He is the author of many books, including How to Raise an Antiracist, the National Book Award-winner Stamped from the Beginning: The Definitive History of Racist Ideas in America, and five #1 New York Times bestsellers, including How to Be an Antiracist; Stamped: Racism, Antiracism, and You, co-authored with Jason Reynolds; and Antiracist Baby, illustrated by Ashley Lukashevsky. He was awarded a 2021 MacArthur Fellowship, popularly known as the "Genius Grant." Find Dr. Kendi online @ibramxk on Instagram, and @DrIbram on TikTok and Twitter.
Nic Stone is an Atlanta native and a Spelman College graduate. Her debut novel for young adults, Dear Martin, was a #1 New York Times bestseller. She is also the author of the New York Times bestseller Clean Getaway, the 2020 NPR Best Book of the Year selection Dear Justyce (a sequel to Dear Martin), the Rainbow Book List Top Ten selection Odd One Out, Jackpot, and Shuri: A Black Panther Novel. She is one of the authors in the New York Times bestselling book Blackout, recently optioned for as a new anthology program for Netflix by Barack and Michelle Obama's production company, Higher Ground. Find her online at nicstone.info or @nicstone.
This program is supported, in part, by public funds from the New York City Department of Cultural Affairs in partnership with the City Council. Word Up Community Bookshop's programs are made possible by the New York State Council on the Arts with the support of the Office of the Governor and the New York State Legislature.