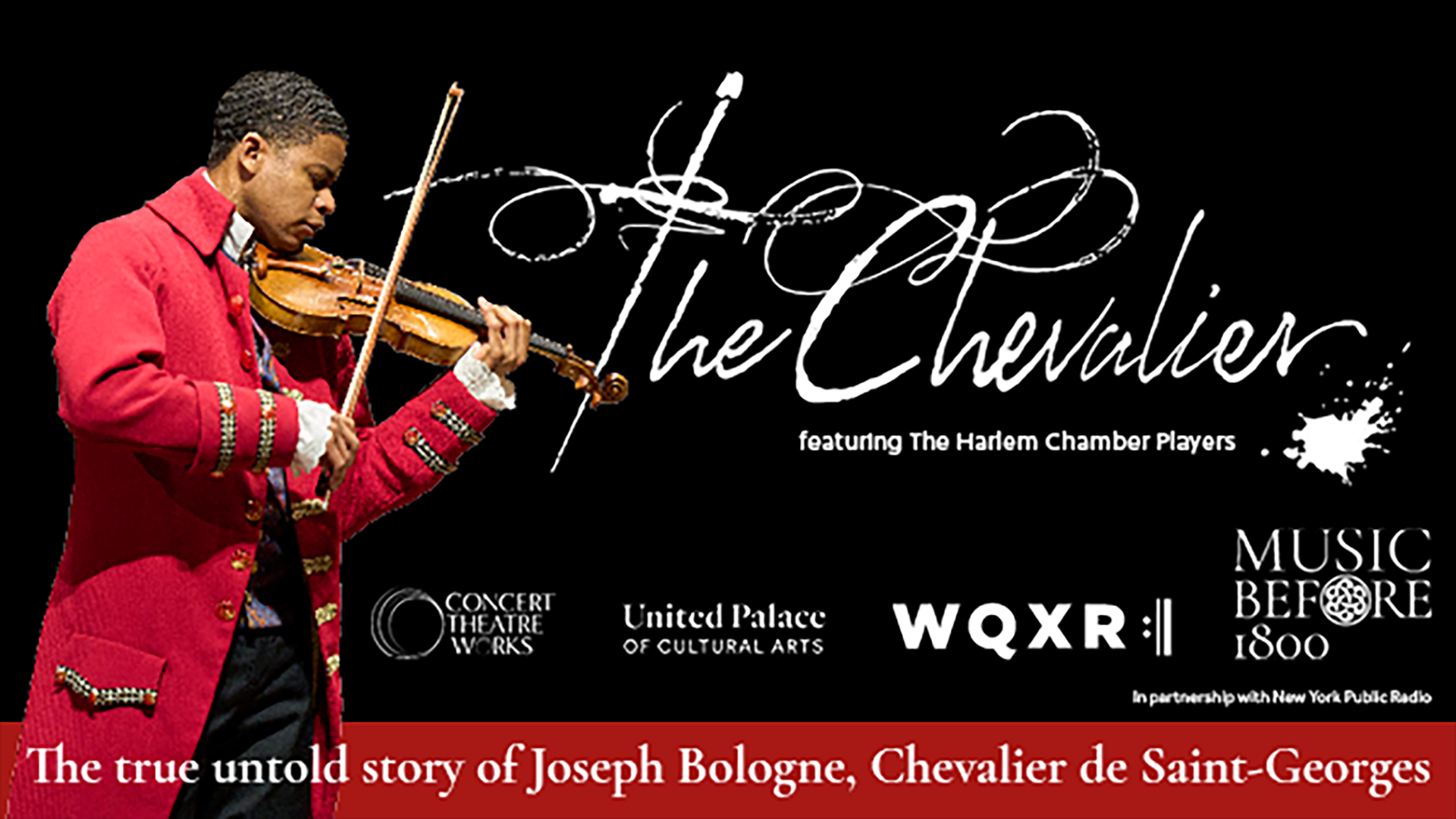 THE CHEVALIER
THE LIFE AND MUSIC OF JOSEPH BOLOGNE
Sunday, January 21, 2024
Doors: 3:00pm, Show: 4:00pm
United Palace
4140 Broadway, NY, NY 06877
Tickets: $25-$50-$200 (including reception with the artists after the event)
For ADA seat please call: 800-530-4202
On January 21, a consortium of NYC arts organizations presents the NYC premiere of THE CHEVALIER at the United Palace. The staged concert theater work tells the story of Joseph Bologne, Chevalier de Saint-Georges (1745–1799), a prolific 18th-century composer, virtuoso violinist, abolitionist, the finest fencer in Europe, general of Europe's first Black regiment, and an acquaintance of both Mozart and Marie Antoinette. Despite his captivating biography, Bologne was largely forgotten by history.
Described by The Guardian in its London debut with the London Philharmonic Orchestra as "quite simply exquisite," this global touring production is written and directed by Music Before 1800's newly appointed artistic director, Bill Barclay, and features actor RJ Foster (Broadway; Fat Ham, The Lehman Trilogy) and violinist Brendon Elliott (New World Symphony, New York Philharmonic) both portraying the title character. Other featured actors include Merritt Janson as Marie Antoinette, David Joseph as Mozart, and Barclay himself. Bologne's music is performed by the Harlem Chamber Players, an ensemble committed to diversity in programming and membership. Immediately following the performance is a Q&A with cast members hosted by WQXR's Terrance McKnight.
THE CHEVALIER was commissioned by Boston Symphony Orchestra in 2018, debuted at Tanglewood, and has been presented a dozen times in the US – including with the Cleveland Orchestra, Buffalo Philharmonic, and at Caramoor, and Chautauqua. January 21 at United Palace marks the long-awaited NYC debut of this successful and innovative tour.
THE CHEVALIER is being brought to the United Palace stage by Music Before 1800, NYC's longest-running (and first independent) series devoted exclusively to early music; Concert Theatre Works, whose mission is to build new audiences for classical music by bringing story to the symphony; and the Harlem Chamber Players, an ethnically diverse collective of professional musicians dedicated to bringing high-caliber, affordable and accessible live classical music to people in the Harlem community and beyond.
The media partner is WQXR, New York's classical music radio station.
$25.00
$50.00
$200.00
Taken
Accessible
Your

Selection

s
Select
Your

Seats