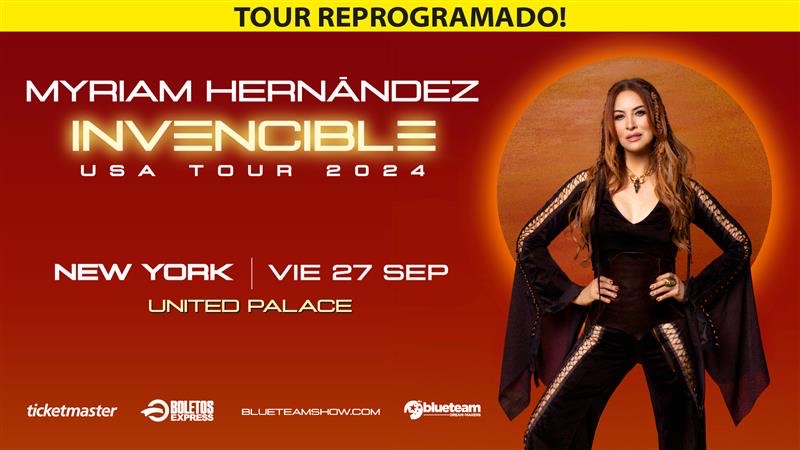 Myriam Hernandez - Invencible Usa Tour 2024
Saturday, March 9, 2024
Doors: 6:00pm, Show: 8:00pm
United Palace
4140 Broadway, New York, NY 10033
We are thrilled to introduce "Invencible Tour" by Myriam Hernández. This renowned Chilean singer has been captivating hearts with her romantic ballads for over three decades, and now she returns with a show that promises to be unforgettable.
Myriam Hernández, a true legend of Latin music, began her career in 1988 and quickly became an icon with her hit "El hombre que yo amo." Throughout her career, she has accumulated numerous achievements and awards, including being named the Best Latin Artist by the New York Entertainment Critics Association (ACE) in 1997. In 2011, she received a Latin Grammy nomination for Best Female Pop Vocal Album for her album "Seducción 14." In 2015, she received the Latin Academy of Recording Arts & Sciences' Presidential Award, and in the same year, she was inducted into the Latin Songwriters Hall of Fame. In 2022, she was honored with the Latin Grammy Award for Musical Excellence, becoming the first female artist from her country to receive this prestigious award.
Recently, she released the single "Nos lo hemos Dicho Todo," showcasing her continued passion for creating beautiful music. Don't miss the chance to witness Myriam Hernández live in concert during "Invencible Tour." This is an experience that music lovers will treasure for years to come.

$64.80
$75.60
$97.20
$118.80
$173.88
$200.88
$227.88
Taken
Accessible
Your

Selection

s
Select
Your

Seats