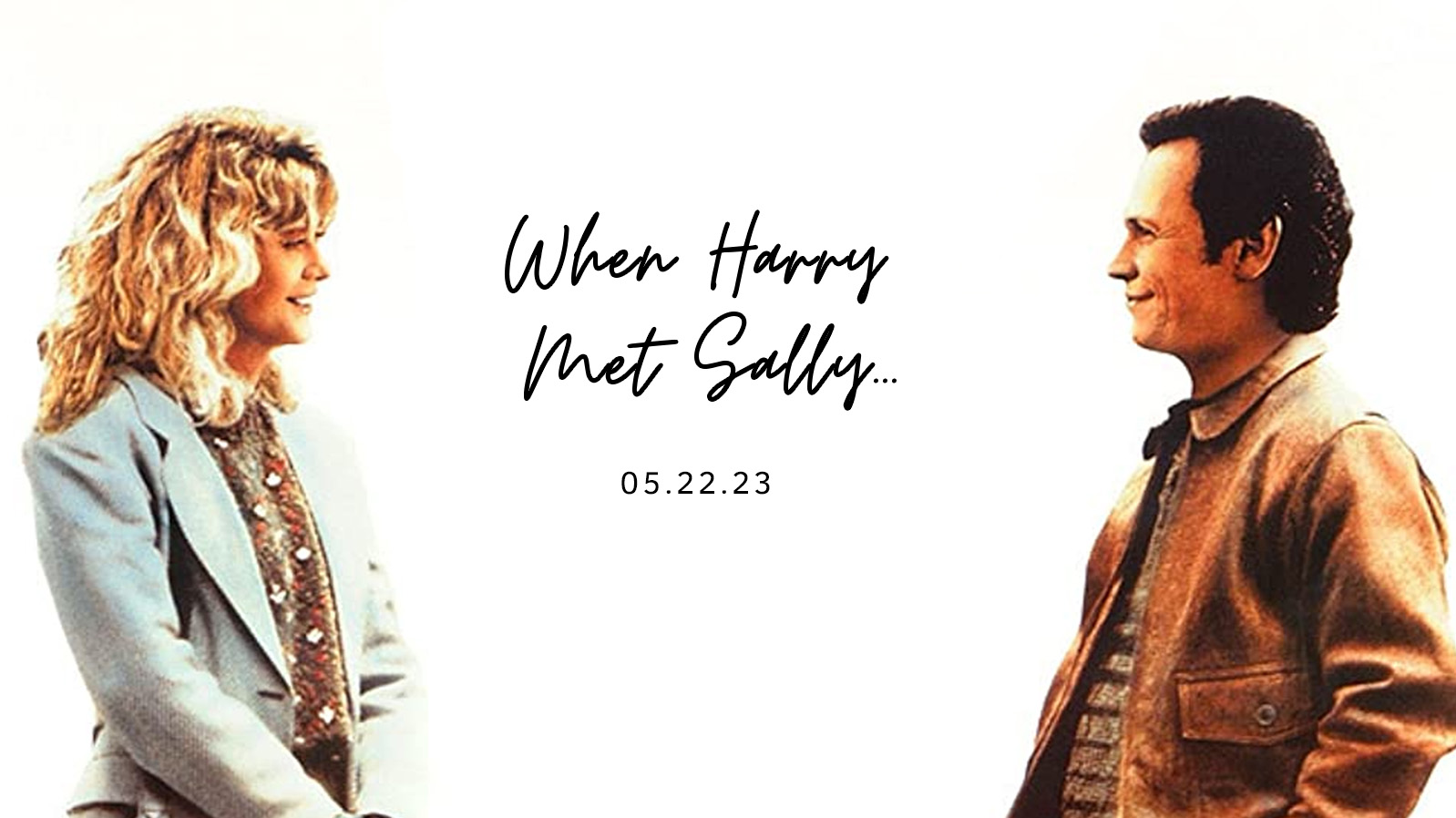 When Harry Met Sally . . .
with talk back by Lin-Manuel Miranda
and Billy Crystal
Monday, May 22, 2023
Doors: 6:00pm, Show: 7:00pm
United Palace
4140 Broadway, New York, NY 10033
6:00 PM: Doors Open - 7:00 PM: Film Screening - 8:45 PM: Talk back
FREE ADMISSION (See Ticket Policy at bottom of page)
NYP Sponsor tickets available with access code Thursday, May 11
General admission tickets available at 9am Monday, May 15
The 1989 American romantic comedy-drama follows Harry and Sally from the time they meet in Chicago just before sharing a cross-country drive through twelve years of chance encounters and, ultimately, friendship in New York City. The film addresses but does not resolve the question: "Can men and women ever just be friends?" Starring Billy Crystal, Meg Ryan, Carrie Fisher, and Bruno Kirby. Directed by Rob Reiner and written by Nora Ephron. The movie is 1 hour, 36 minutes and will be screened on DCP.
Immediately following the screening, attendees will be treated to a special conversation between the United Palace's good friend, patron, and neighbor, Lin-Manuel Miranda and the one and only Billy Crystal.
"When Harry Met Sally . . ." continues the return of MOVIES AT THE UNITED PALACE, the second of the season's six films set in New York City and selected by Miranda. The season started with "Black Swan" in April and will continue in the fall with "The Devil Wears Prada" and "If Beale Street Could Talk."
Miranda has supported MOVIES AT THE UNITED PALACE since 2013 when he helped the theatre's fund-raising campaign to purchase a new projector, screen, and surround sound system to return movies to the theatre after a 40-year hiatus. His guests in 2022 included Steven Spielberg, Spike Lee, Hugh Jackman, and Danai Gurira. Last year about 15,000 people attended these showings in the heart of Washington Heights. (Watch a short video.)
Movies at the United Palace is sponsored by the Miranda Family Fund with support from New York-Presbyterian Hospital.
Billy Crystal is a Tony and Emmy Award-winning comedian, actor, producer, writer and director. He is known around the world as the star of such feature films as "When Harry Met Sally…," "City Slickers" and "Analyze This"; as a cast member of NBC's "Saturday Night Live"; and the acclaimed nine-time host of the Academy Awards. Crystal has hosted the GRAMMY Awards three times and earned five Emmys for his work as host, writer and producer on both shows. Billy won his sixth Emmy for the HBO Comedy Special "Midnight Train to Moscow." Crystal was the 2007 recipient of the Mark Twain Prize for American Humor and is a NY Times best-selling author of five books. In 2004, Crystal made his Broadway debut with the original production of his one-man show "700 Sundays," for which he won a Tony Award. The Broadway production was released as an HBO special, garnering four Emmy nominations. Crystal's latest work includes the friendship comedy "Standing Up, Falling Down" opposite Ben Schwartz, as well as "Here Today," which Crystal directed, produced, and stars in opposite Tiffany Haddish. He has been married to Janice for 51 years and they have two children and four grandchildren.
United Palace: The history of the United Palace begins in 1930 when it opened as one of five Loew's "Wonder Theatres," premiere vaudeville and movie houses located in four boroughs and New Jersey. The outrageously ornate architecture was designed by noted architect Thomas Lamb (Cort Theater, the former Ziegfeld Theatre) and decorative specialist Harold Rambusch (Waldorf Astoria, Radio City Music Hall). Noted architecture critic David Dunlap described the ornate interior as "Byzantine-Romanesque-Indo-Hindu-Sino-Moorish-Persian-Eclectic-Rococo-Deco." With nearly 3,400 seats the United Palace is Manhattan's 4th largest theatre. It hosts concerts (Alicia Keys, Lenny Kravitz, Ms. Lauryn Hill, Bad Bunny, Wilco), TV and film shoots ("Only Murders in the Building", "John Wick 3"), movie premieres ("Halftime," "In the Heights," "High Strung - Free Dance"), and other corporate and community events. The in-house selection of state-of-the-art technology updates the 1930 opulence for 21st century audiences.
Miranda Family Fund: For over 40 years, the Miranda Family has championed community activism. They have created and supported institutions that have served both underserved populations in Upper Manhattan and communities throughout New York City, across the country, and in Puerto Rico. Luis A. Miranda, Jr. and Dr. Luz Towns-Miranda are proud parents to Luz Miranda-Crespo, Lin-Manuel Miranda, Miguel Towns. Now as adults, Luz and Lin-Manuel are married to Luis Crespo and Vanessa Nadal, respectively, with children of their own. They continue to foster the family's commitment to advocacy for education, the arts, and social justice - along with a sustained focus on relief and rebuilding efforts in Puerto Rico post-Hurricane Maria.
NewYork-Presbyterian: NewYork-Presbyterian is one of the nation's most comprehensive, integrated academic healthcare systems, encompassing 10 hospitals across the Greater New York area, nearly 200 primary and specialty care clinics and medical groups, and an array of telemedicine services. A leader in medical education, NewYork-Presbyterian Hospital is the only academic medical center in the nation affiliated with two world-class medical schools, Weill Cornell Medicine and Columbia University Vagelos College of Physicians and Surgeons. This collaboration means patients have access to the country's leading physicians, the full range of medical specialties, latest innovations in care, and research that is developing cures and saving lives. Founded 250 years ago, NewYork-Presbyterian Hospital has a long legacy of medical breakthroughs and innovation, from the invention of the Pap test to pioneering the groundbreaking heart valve replacement procedure called TAVR. NewYork-Presbyterian's 48,000 employees and affiliated physicians are dedicated to providing the highest quality, most compassionate care to New Yorkers and patients from across the country and around the world. For more information, visit www.nyp.org and find us on Facebook, Twitter, Instagram, and YouTube.
Ticket Policy: Seating is general admission, first come, first served. The first 3,000 ticketed guests who show up the day of the movie will be let in. Ticket does not guarantee admission. Venue reserves all rights to restrict access to the United Palace if in its sole discretion it deems the theatre's capacity has been reached. Doors will close promptly at 7pm. On show day, guests with accessibility needs should go to the ADA entrance at the front of the line near the marquee.